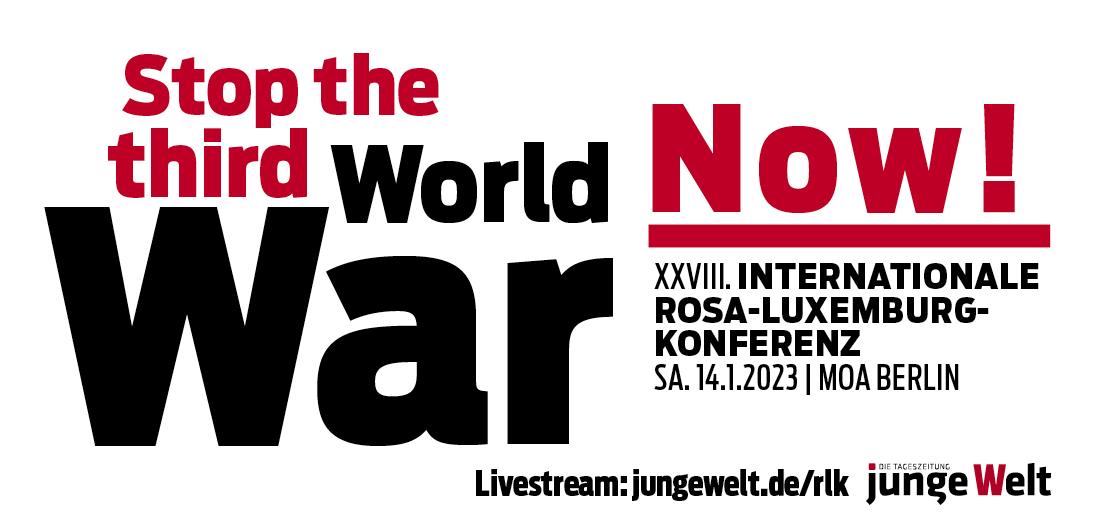 26.11.2021 11:55 Uhr
Donations
The International Rosa Luxemburg Conference under the motto "War and corpses – the last hope of the rich. Hands off Russia and China!" starts on 8 January 2022 at 10.30 a.m. with the opening of the art exhibition and ends around 8 p.m. after the panel discussion. All presentations, discussion rounds, cultural contributions and the panel discussion can be followed free of charge in the livestream at www.jungewelt.de/rlk. The contributions will be simultaneously translated in German, English and Spanish.
In order to finance the event, the organisers kindly ask for the purchase of symbolic tickets. These are available in our jW shop: https://www.jungewelt.de/rlk_2022_spenden.

Donate via Papypal. A donation via credit card is also possible without a Paypal account.
https://www.paypal.com/donate?hosted_button_id=BXH9M9JZXTPW6
Or for donations to this account:
Verlag 8. Mai GmbH
Postbank Berlin
IBAN: DE50 1001 0010 0695 6821 00
BIC: PBNKDEFF
Reason for payment: RLK 2022
Thank you very much!